SUSTAINABLE WINTER OPERATIONS
NEW NAME: CT Green Snow Pro for Parking Lots and Sidewalks
We have expanded our program to offer a class for those applicators responsible for maintaining parking lots and side walks in municipal, commercial, and residential properties.
REGISTER NOW! Classes are being offered on March 28th, April 5th, and April 25th. Click here to register.
The T2 Center at UCONN is very thankful to the State of Connecticut for providing funding for a one year program to subsidize the registration fee for private commercial applicator participation in the CT Green Snow Pro education program. In 2022-2023, the registration fee will be $100 instead of $200. We encourage you and your employees to take advantage of this special program.
For more information about the CT Green Snow Pro training, please contact Shannon O'Loughlin at shannon.o'loughlin@uconn.edu.
SAVE $$, TIME AND THE ENVIRONMENT
Sustainability in Winter Operations is more important than ever. With environmental impacts increasing and budgets continuing to decline, municipal and private commercial applicators must employ best practices to minimize salt use and maximize their operations for both fiscal and environmental stewardship.
What is the CT Green Snow Pro Training and How Does it Help?
The CT Green Snow Pro Training is a one-day training class offered by the T2 Center at UCONN. There are two classes available depending on whether you maintain roadways (CT Green Snow Pro for Roadways) or parking lots and sidewalks (CT Green Snow Pro for Parking Lots and Sidewalks). These classes focus on best practices for salt application and maintenance of facilities and equipment and use demonstrations and case studies to illustrate the positive impact these strategies can have on the environment and your operations.
Why should you take the CT Green Snow Pro Training?
Learn how to streamline your operations by using less salt and maximizing your time.
Successful completion of this class qualities for point under Sustainable CT Action 3.14 — Implement
Sustainable Snow Management for your municipality. Click here for more information about Action 3.14.
Continuing education opportunity for CT Commercial Pesticide Supervisors and CT Pesticide Private Applicators. The Spring 2023 classes are approved for 3 CEUs in 3A, 3B, 3D.
What are the Learning Objectives? The Learner will be able to:
Understand the environmental impacts of chlorides on our environment and infrastructure.
Be able to describe best practices for maintenance of facilities and equipment before, during and after the storm.
Discuss the importance of calibration and pre-treatment in winter operations.
For more information on when a Green Snow Pro class is available visit the T2 training calendar here.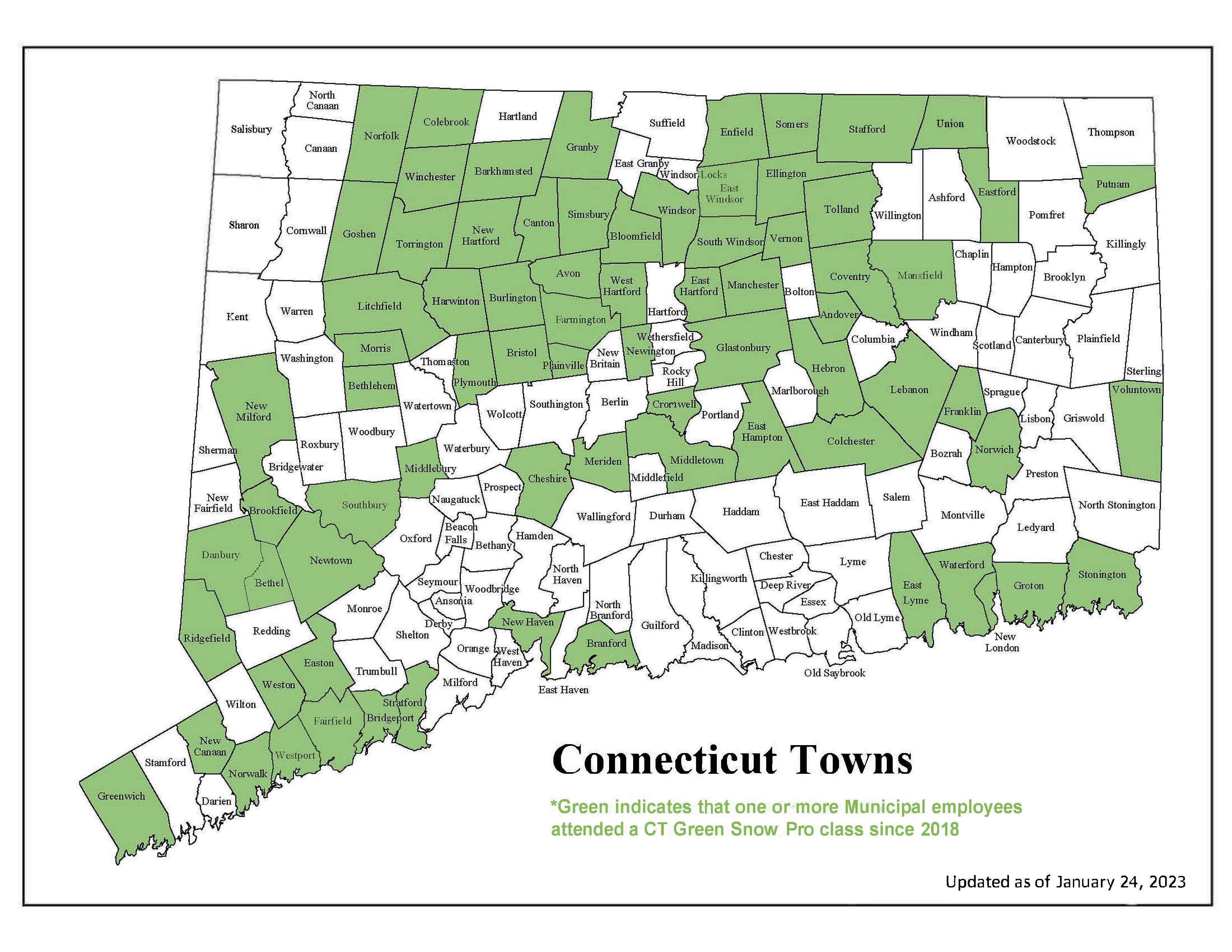 Helpful Resources
CT Green Snow Pro – Best Management Practices Guide for Municipal Applicators
Learn More
CT Green Snow Pro – Best Management Practices Guide for Commerical Applicators
Learn More
A Conversation with Senator Anwar on the increasing issue of contaminated private wells in Connecticut – September 8, 2021
View on Facebook

Sustainable Winter Operations Panel Discussion – A partnership between the New England Chapter of APWA and the CT T2 Center – November 18, 2021
Watch Now

Technical Resources:

Access to CTDOT Road Weather Information System (for Municipalities):
Gain access to data from 39 road weather information system stations, including road temperature and current weather conditions in the area.
Email Aidan Neely to secure a username and password – aidan.neely@ct.gov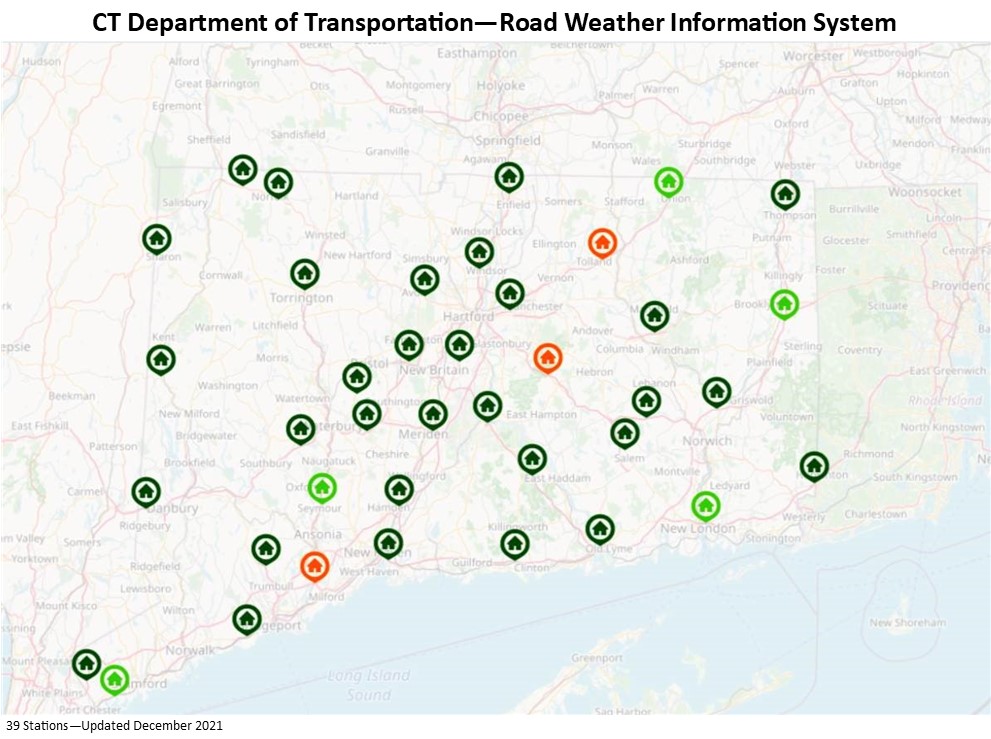 Public Education